Message from Honorary Headmaster And President of Advisory Board
Bromsgrove School Mission Hills is a modern educational force – a truly bilingual education. We know that it is possible to balance academic rigour with nurture and stimulation. We also know that all young people rise to the expectations you hold of them. That morality matters and creativity counts. That the love of learning can be transformative. We know because we put these principles into practice every day.
Message from Honorary Headmaster and President of Advisory Board
Welcome to Bromsgrove School Mission Hills, a member of the Bromsgrove School UK family of schools. Whilst the history of Bromsgrove extends back over five hundred years, this is a forward-looking school, focused on preparing young people to make a difference in a rapidly changing world through a genuinely bilingual education. We work in close partnership with parents. Like you, we want the very best for your children and seek to provide a stimulating, supportive and happy environment in which they can thrive.
We strongly encourage you to visit us for yourself. If you do, you will find superb facilities, a dedicated staff and engaged hardworking students. Indeed, the heart of Bromsgrove School Mission Hills is its people with their high expectations and shared values. Ours is a warm, inclusive and family-orientated community in which the friendships formed between students often last a lifetime and where enriching school experiences shape individuals forever.
Bromsgrove School Mission Hills students are supported to achieve the very most they can: the best academic results certainly but through the wide range of opportunities available to them we aim to develop skills in creativity, communication, collaboration, flexibility and resilience. Ultimately, we seek to ensure that students of Bromsgrove School Mission Hills are amongst the young adults best able to flourish.
This really is an exciting and energetic place to be and we hope you will choose to come and see why. You will find students thriving within an excellent academic and pastoral setting with a wealth of co-curricular opportunities and you can be assured of the warmest of welcomes.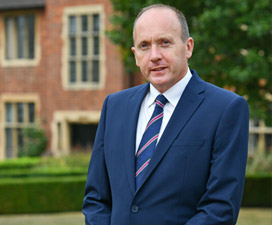 Mr. Michael Punt
Honorary Headmaster
President of Advisory Board
Background:
Headmaster

Bromsgrove School UK
2022-Present

Headmaster

Chigwell School
2007-2022

Deputy Head Academic

The Perse School, Cambridge

MA in Physics

St Peter's College, Oxford

MSc in Semi-conductor Science and Technology